About us
We believe in the values of community: by being an integral part of the Budapest yoga communities, and, perhaps most importantly, by helping to create a community among our students and clients.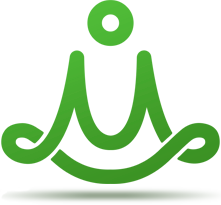 At Moksha Yoga Club you will be welcomed with a smile, and after a few visits, probably greeted by name. We pride ourselves on employing friendly and high knowledgeable teachers with the experience to answer your questions about yoga and healthy life. We also believe that there is a "yoga path" for everyone: female or male, young or old, tall or small. We believe that that there are many authentic paths of yoga, all of which deserve respect; and that our teachers and therapists should be well trained, but should each keep their own unique style, approach and creativity.
The Moksha Yoga Club is a friendly space, where yoga inspires well-being  for our many visitors . We love how our community spirit lifts everyone working or visiting here. We know how vital it is to have the best teachers  and to offer a fantastic choice of yoga styles , It is very important to ease newcomers into a regular practice, with our beginners corses and elementary classes. Plus, we run exciting workshops with resident and guest teachers whose experience and imagination brings a freshness to yoga 
ABOVE ALL,
WE BELIEVE THAT THE MOKSHA YOGA CLUB IS FOR YOU!